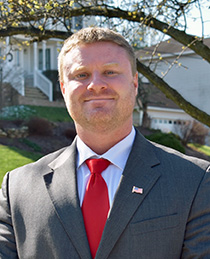 Bridgeport City Council
42
Sherwood Road, Bridgeport for the last 15 years
Wife - Virginia (Ginny) Vincent,
Children: Daughter, Vaughn age 15, Sons Brock age 12, & Graham age 8.
Graduated from Fairmont State in 1997 with a Bachelor's Degree, WV State Registered Professional Engineer, Project Manager for Pipeline Construction in the Natural Gas Industry.
I have been a member of the Bridgeport City Council since July of 2013. Since that time, I have worked as part of the team to accomplish many improvements within the City of Bridgeport. One of the items that I find to be of high importance is the schools within our community. As a representative of the City, I have worked to provide assistance to Harrison County School's officials on several improvement projects, most notably the Johnson Elementary School replacement project. I was also a member of the 2010 Harrison County Comprehensive Educational Facilities Planning (CEFP) Committee. That was a valuable experience to be able to assess the conditions of all schools in Harrison County and provide direction for a 10 year plan for the Harrison County School Board. Prior to being a part of City Council, I was involved for 4 years as a member of the City of Bridgeport Zoning Appeals Board, serving 2 of those years as the Chairman.
Some of my hobbies/activities include: working out at the gym each day, being involved in administration duties of youth sports organizations in our community, coaching our areas youth in softball, football, and baseball, being an active member of our church community, and taking my children golfing, swimming, & atv riding when the weather permits.